Adams talks with loyal parade organisers 'worthwhile'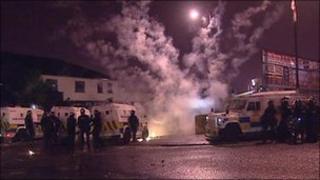 The Sinn Fein president has held his first meeting with a group representing the organisers of loyalist parades.
Both Gerry Adams and a spokesperson for the North and West Belfast Parades Forum described the two-hour long talks as "worthwhile".
They also said that they had agreed that any parades or protests should be peaceful.
The talks at the City Hall in Belfast are an attempt to prevent a repeat of the recent riots in Ardoyne.
After the meeting on Monday, both parties said they would hold further talks.
However, they are not expected to happen before an Apprentice Boys march past Ardoyne in two weeks time.
BBC NI political correspondent Gareth Gordon said that the discussions had gone on longer than some people had expected.
Gerry Adams said it was an attempt to sort out "vexed issues".
He added: "We are not going to sort all of this out in one meeting.
"The meeting might have gone on for a wee while but it was not waffle.
"It was good, useful, constructive dialogue and put in a very frank and honest way.
"We listened very intently to what our friends had to say about all of these issues and their sense of themselves and their sense of their section of our community in this city of Belfast."
Tommy Cheevers from the North and West Parades Forum said no time limit had been set on the talks.
He added: "We did not know if we would be here for two minutes or twenty minutes and I think that shows that everyone was prepared to take whatever time it took."
Police officers in Ardoyne came under sustained attack from republican youths throwing bricks and wielding metal bars and planks following an Orange parade on 12 July.
The trouble continued for another two evenings.