Warning over counterfeit cosmetics in Northern Ireland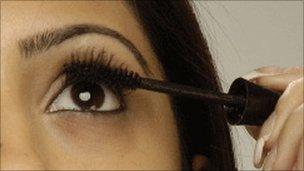 The word make-up could be taking on a whole new meaning in Northern Ireland after a Belfast trader was fined £240 for selling counterfeit cosmetics.
Fake versions of big name brands MAC, Bobbi Brown and Chanel were found when Trading Standards swooped on the premises of Kevin Higgins at the Dairy Farm shopping complex on the Stewartstown Road in December 2009.
He was fined after pleading guilty to four charges under the Trade Marks Act 1994 at Belfast Magistrates Court on Tuesday.
Now Trading Standards officer Damien Doherty is warning consumers to be on their guard when purchasing cosmetics which he say are "becoming increasingly common in the counterfeit market".
"If an item is popular, it is likely to be counterfeited and these days anything can be counterfeited, so it is no surprise that we are seeing items such as mascara, eye shadow palettes and eye-liners being copied and placed on the market," he said.
"It can be very difficult to identify a fake from a genuine article especially in the locations they are sold such as online websites or auction sites.
"In a lot of cases, you can't actually see the item so it can be very difficult to spot which is the genuine article and which is a fake.
"People who are looking to buy these items, they are going to buy the most popular ones, so the counterfeiters will copy the most popular brands, the ones that are selling well."
Mr Doherty said people often purchase such items in the belief they are getting a bargain, but warned of the potential dangers lurking in fake beauty items.
"Consumers don't often realise the reason these goods are cheaper is because they are badlly made and the make-up can sometimes be dangerous," he added.
"The cosmetics are potentially dangerous to consumers and it is unlikely that they will be subject to the same stringent safety tests as legitimate brands.
"Counterfeit make-up has been known to cause serious rashes, allergic reactions and in more serious cases even cause burning to the skin.
"As these items are often applied to eye areas, it is also important consumers think very carefully before deciding to purchase them."
Mr Doherty said common sense goes a long way in avoiding a make-up disaster and said the old adage of "if a deal seems to good to be true it probably is", still rang true.
"For instance if a brand name mascara is on sale on a website for a tenner when it would normally retail for £20 then the chances are it is going to be fake," he added.
"The majority of brand name make-up is only sold from reputable stores and genuine articles are less likely to be found in market stalls or on independent websites."