Alliance selects Laura McNamee as new city councillor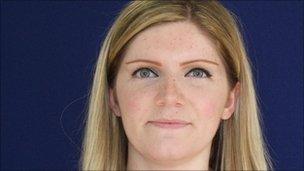 The Alliance Party has selected Laura McNamee to replace Naomi Long as a councillor for the Victoria area on Belfast City Council.
In May's general election, Ms Long was elected MP for East Belfast.
The party said Ms Long has left Belfast City council to focus on her work as an MP.
Ms McNamee, who lives in east Belfast, said that "it is a real privilege to be given the opportunity to serve the people of Victoria".
Ms McNamee works as a senior caseworker for Ms Long.
The 25-year-old studied geography and English at Queen's University and her hobbies include travelling and music.
On Thursday, Ms Long said: "It has been a real honour to serve the people of Victoria on Belfast City Council for the past nine years.
"However, with my responsibilities as an MP, the time is right to pass those responsibilities on to somebody else."