The dark role of the special advisor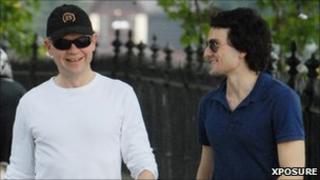 You have to feel sorry for Christopher Myers, the foreign secretary's former special advisor.
He has done nothing wrong, yet has lost his first full-time job as a result of malicious gossip and innuendo.
And yet, I can't help wondering about the quality of special advice the 25-year-old history graduate was capable of providing.
Mr Myers was one of three special advisers in the Foreign Office. According to figures published in June, there are 68 special advisers employed by the government. A total of 18 work in Downing Street alone.
Special advisers (or "Spads" as the cognoscenti call them) are paid from public funds like civil servants, but they are political appointees. Their loyalty lies with their political masters.
They can be hired for particular expertise in key areas. Currently the highest paid is Andy Coulson, the prime minister's communications chief, on a salary of £140,000.
Spads are rarely mentioned in the media, Messrs Myers and Coulson excepted, yet many are well known to political journalists.
Information
They are important sources of information, with intimate knowledge of government and their boss' thinking at any particular time, and they're less hide-bound by the rules than their non-political civil service colleagues.
They can also act as proxies for their ministers - hearing representations, attending meetings, preparing papers.
To some extent spads have come to define modern politics, not just at Westminster but across the world. From the expletive spewing Malcolm Tucker in The Thick of It, to the policy nerds in The West Wing, they are the people we imagine keep any government in business.
Stormont has them too. Each of the Executive ministers is entitled to appoint an advisor. Some are well known to the media. Some are even highly rated (he writes, trying to preserve useful sources).
Some have even moved out of the shadows: the new Lagan Valley MLA Paul Givan was an advisor to Edwin Poots while the current head of Invest NI, Alastair Hamilton, was an advisor to Ian Paisley.
Yet few spads are like Mr Hamilton, who joined the Executive on secondment from a senior position in BT. Most are loyal party workers whose entire lives have been dedicated to the cause. Many are young too.
Dedication
That's why you're left wondering how they can provide useful and objective advice.
In reality the problem lies with the term itself, for many of these individuals are not hired for the quality of their advice. They're hired for their loyalty, dedication and ability to get things done.
In these cases, a special adviser is essentially a politician's factotum and they survive by developing a Jeeves-like mastery of the art of the possible.
On Sunday's Politics show we examine the increasingly bitter battle for the leadership of the Ulster Unionist party and as we face the most difficult financial challenge in living memory , I'll be asking the Finance Minister Sammy Wilson how he's going to persuade all around the executive table to see things the way he does.
Jim
PS - Never mind special advisors, some ministers have special powers. At this year's Fourth of July celebrations at the home of the American Consul General in Belfast the heavens opened and rain threatened to curtail festivities. An exasperated Kamala Lakhdhir begged the environment minister to take charge of the environment. "Stop Raining!" demanded Mr Poots and it did, immediately. Apparently he reserves lightning bolts for very special occasions. Michael O'Leary beware.
PPS - My other professional home, covering the daily events at Stormont, moves to a late night slot on Monday and Tuesday evenings on BBC2 after Newsnight. The new programme, "Stormont Today" will reflect all the goings-on on the hill and hopefully send you off to bed better informed and smiling.