Sinn Fein hits back at Wilson criticism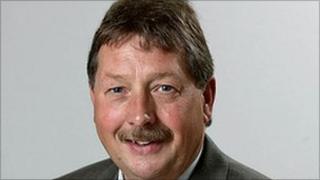 Sinn Fein has hit back at criticism of its position on forthcoming budget cuts by the Finance Minister Sammy Wilson.
On Sunday, Mr Wilson said some of his executive colleagues need a "reality check" about the prospect of the cuts.
It followed Mitchel McLaughlin's previous comments that the executive should not "roll over" on the issue.
Mr McLaughlin, who sits on the Finance Committee, said on Monday they want to wait to see what the cuts will be.
The Comprehensive Spending Review next month is expected to mean a cut of up to £2bn in the NI budget.
Mr McLaughlin said he felt the DUP had attempted a "solo run" where they would propel all of the parties into accepting in a "submissive way" whatever was announced by the Chancellor of the Exchequer, George Osborne.
"We want to see the detail of those proposals," he added.
"We want to engage with the British exchequer before that and we want to talk to the British government about how we can avoid driving those who are already experiencing significant levels of poverty, even further into the poverty trap."
Mr Wilson said on Sunday that all politicians needed to be realistic.
He added: "Everyone is going to feel the pinch of what is coming down the line over the next number of years."
Speaking on the Politics Show on BBC One he referred to "irresponsible voices" and said any plan to defy the Westminster government was unrealistic.
"We have got a problem," he said.
"Let's approach it in a constructive way so that the pain - and there will be pain - is minimised for people."
Last week, the First Minister Peter Robinson said the reductions made difficult decisions inevitable and that Northern Ireland faced a prolonged recession as a result.
His comments prompted a swift intervention from Sinn Fein which said it would not agree to implementing "British Tory cuts".