Politicians react to call to retain 50-50 recruitment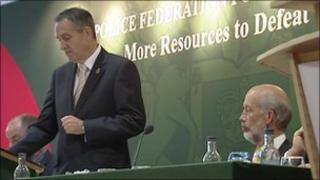 Politicians have given their reaction to the Police Federation's support for the extension of the controversial 50-50 recruitment process.
The Federation's chairman, Terry Spence told members at their annual conference on Wednesay that he would support the move to help combat the dissident republican threat.
The current 50-50 recruitment process was introduced to increase the numbers of Catholics joining the police.
Justice Minister, David Ford, who attended the conference was told by the Police Federation chairman that at least 1,000 extra officers are needed.
Mr Spence said 200 could come from the existing police Full Time Reserve and a further 800 through current recruitment procedures.
It has been strongly opposed by unionist politicians and is due to end next year.
DUP Lagan Valley MP, Jeffrey Donaldson said he supported the Police Federation's call for additional police officers but said he did not agree with its support for continuing the process of 50-50 recruitment.
"I think when you look at the police response to a number of serious incidents which have occurred there is an argument that they could do with additional resources to help them deal with this serious terrorist threat.
"We welcome the fact that there are more Catholics in the PSNI, we want to encourage that but there is a proper way to recruit police officers and the way to do that is not to discriminate against people because of their religion," he added.
SDLP Policing Board member, Dominic Bradley said he welcomed Mr Spence's comments.
"The police service has been one of the major successes of the peace process and in order to ensure that success is maintained and continues, I believe until the Patten proposals have been fulfilled the 50-50 policy, should continue until the PSNI is fully represenative of the Catholic community.