Consumer Council: trust breakdown with NI Water and DRD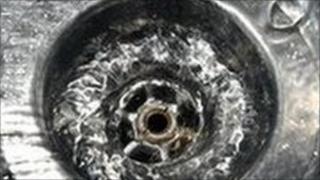 The Consumer Council has withdrawn from a partnership agreement that includes Northern Ireland Water and the Department of Regional Development due to a "breakdown in trust".
Its chief executive Antoinette McKeown accused NI Water of leaking information and "misrepresenting" the Consumer Council's position.
She also claimed the DRD had withheld information from her organisation.
She said all meetings must now be held on a more formal basis.
Ms McKeown said a series of revelations about NI Water in recent months had undermined its relationship with the Consumer Council
She added that consumers were confused about what was happening at the company.
"The view of the Consumer Council is that when information that is shared between the Consumer Council and NI Water is leaked in such a way that it misrepresents our position on Northern Ireland Water that is not fair and not acceptable to consumers.
"Also, if information is withheld by the Department for Regional Development from the Consumer Council in relation to the appointment of non-executive directors, that is also unfair to consumers," she said.
'Sackings'
The partnership agreement also included the Drinking Water Inspectorate, the Northern Ireland Authority for Utility Regulation and the Northern Ireland Environment Agency.
Earlier this month, the BBC learned that the NI Audit Office is to begin an investigation into Northern Ireland Water.
The probe was requested by Stormont's Public Accounts Committee which is scrutinising the sackings of the four non-executive directors.
The directors were fired after an independent report revealed contracts were handed out without being tendered.
Questions have subsequently been raised over the independence of the report.
A UTV programme uncovered documents purporting to show that the permanent secretary at the Department for Regional Development (DRD), Paul Priestly, who commissioned the review, was given an early draft of its report and asked for changes to be made.
Mr Priestly is currently suspended by the DRD while an investigation into his conduct is carried out.
The civil service said his suspension was to facilitate the investigation and was not a disciplinary penalty.