Tom Elliott 'should make GAA gesture' - Ringland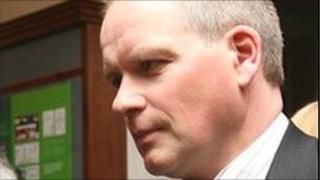 Ulster Unionist Trevor Ringland has said he will leave the party if new leader Tom Elliott does not show a new attitude towards the GAA.
Mr Elliott was elected leader of the party on Wednesday night.
In previous radio interviews he said he had no interest in attending gaelic games.
However, Mr Ringland, who contested East Belfast in May's general election, said Mr Elliott needed to reach out to the nationalist community.
"I would guarantee him that if there is an Ulster team in the all-Ireland final next year I will get him two tickets for that final," the former Irish rugby international said.
"I want to hear him say in the next few days that if I get him those tickets that he will go to that match.
"Because I see people who are reaching out to the unionist community, reaching out to try and build a shared society here and they need encouragement as well
"They need to see and hear a unionism that actually wants to have a relationship with them."
Mr Ringland said if Mr Elliott does not make such a commitment "he's taking the party in a direction I'm not comfortable with".
However, former Fermanagh/South Tyrone MP Ken Maginnis, now Lord Drumglass, accused Mr Ringland of speaking "so naively".
"Tom Elliott has lived and worked and operated amongst his Catholic neighbours," he said.
He said Mr Elliott did not want to go to games played on a Sunday because of his religious beliefs.
"He will not go to a match on a Sunday," Lord Drumglass said.
"Nor will I and I've made it clear and no-one has pilloried me for trying to maintain that aspect of Northern Ireland life that says Sunday's a special day."
He accused Mr Ringland of "saying to Tom 'you cannot be, you cannot represent what you believe in and do the best for the community, from your own base'".