Ministers could delay draft budget - Wilson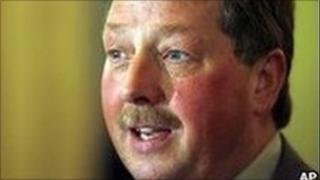 The failure of some Stormont ministers to cooperate with his plans may delay the publication of a draft budget, the finance minister has said.
Sammy Wilson said he wanted to publish it just after the Comprehensive Spending Review on 20 October.
This would have allowed assembly committees until early December to examine the proposals.
Mr Wilson said some ministers have been "extremely slow" to engage with the Executive's Budget Review Group.
The Comprehensive Spending Review will outline how much the UK will spend over the next four years, as well as how much Whitehall departments and the devolved administrations must save.
It could mean a cut of up to £2bn in the NI budget.
Mr Wilson said he had hoped to complete consultation on the proposals by early December and to get a budget through the Assembly early in the new year.
Earlier this month he confirmed that only four DUP-controlled government departments had so far delivered their proposed savings.
His comments followed criticism from Sinn Fein that the executive should not "roll over" on the issue of cuts.