Former rugby star Ringland is to resign from UUP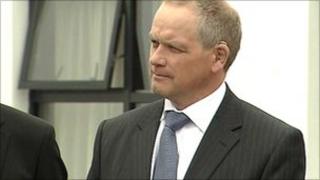 Ulster Unionist and former rugby star Trevor Ringland has said he is to resign from the party.
Mr Ringland, who is on the liberal wing of the party, had threatened to leave last month.
It followed a row about new leader Tom Elliott's attitude towards the Gaelic Athletic Association (GAA).
Speaking on BBC's Talkback programme on Monday, Mr Ringland said that he "had taken the decision reluctantly to resign from the party".
He said that he had had discussions with Mr Elliott.
Mr Ringland said: "I think that we both want the same things for the people of Northern Ireland, it is just how to bring that about is the challenge."
Mr Elliott had said he had no interest in attending gaelic games but Mr Ringland said he needed to reach out to the nationalist community.
After a meeting between the two men last week, Mr Ringland said they agreed on a wide range of issues, but not the GAA.
In a radio interview on 23 September, Mr Ringland said if Mr Elliott did not make a commitment "he's taking the party in a direction I'm not comfortable with".
Mr Elliott said he was "obviously disappointed" at Mr Ringland's decision.
"I have the utmost respect for Trevor and recognise that we are broadly in agreement on the vast majority of issues," he said.
"My feeling is that Trevor found himself cornered on an issue, an issue which I do not believe necessitated his resignation.
"Certainly given the significant contribution that he has made to the Ulster Unionist Party, and indeed to the wider Northern Ireland community, I am hopeful that he will re-assess his position in the future."
On Monday, UUP deputy leader Danny Kennedy said he thought Mr Ringland had made a "tactical error" in leaving the party and it would be "a small step back" to making a return.
Meanwhile, the new Ulster Unionist leader has held his first meeting with the DUP leader Peter Robinson. Topics discussed included unionist co-operation and the Northern Ireland budget.