Thousands attend union spending cuts protest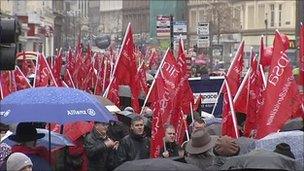 Several thousand people have attended a trade union rally against proposed spending cuts in the centre of Belfast on Saturday.
The march began at St Anne's Cathedral before making its way to City Hall.
Among those attending were Social Development Minister Alex Attwood and Education Minister Catriona Ruane.
Earlier, the finance minister Sammy Wilson described the protest as a waste of time.
The rally was supported by both the Irish Congress of Trade Unions (ICTU) and the Northern Ireland Public Service Alliance (Nipsa).
ICTU Assistant General Secretary Peter Bunting told those assembled that 30,000 public and private sector workers were facing redundancy.
He accused the chancellor George Osborne of "slashing away at the essential services which all of us rely on".
He also attacked Sammy Wilson's stance on the spending reductions.
"What annoys Sammy Wilson most is you being here today.
"Sammy wants us to sit down, shut up and take our medicine - like good patients for his prescription of austerity and privatisation.
"However, this is not medicine, but poison," he added.
Earlier Mr Wilson said unions were "giving false hope to people that somehow or other by holding placards they can avoid these financial choices".
He also accused the unions of using the cuts to gain political clout.
"In doing so, they are probably delaying or seeking to delay the whole process of trying to make a budget," he added.
Economists have warned that redundancies are inevitable because of the cuts in public spending required by the Comprehensive Spending Review.
Construction and other industries reliant on capital investment face being particularly badly hit because of a bigger than expected cut in the capital budget.
Firefighter Archie McKay said that as well as the prospect of 150 job losses out of a total of 900 full-time workers, the reduction in capital spending was a concern for him and his colleagues.
"There are a number of fire stations around Northern Ireland at the moment that are seriously not fit for purpose and we are worried that these may not be replaced," he said.
Related Internet Links
The BBC is not responsible for the content of external sites.