Live crabs found in suitcase at Belfast airport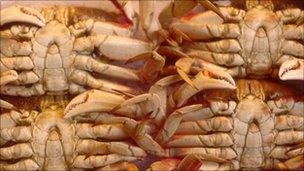 Five live crabs were discovered in a suitcase when officers from the UK Border Agency stopped and searched the luggage of a woman in Belfast.
The crabs had been individually wrapped and concealed amongst personal items in a suitcase.
The luggage was placed in the hold of the aircraft for the flight from China to Belfast International Airport.
The crabs were handed over to an official from the Department of Agriculture but could not be saved.
Maggie Eyden, UK Border Agency (UKBA) Assistant Director for Northern Ireland, said: "Certain goods are restricted or banned completely from entering the UK, even if you are travelling from within the European Union.
"These include live animals, endangered species of plants and animals, including souvenirs made from endangered species, certain fur skins and articles made from fur skin.
"Travellers should be aware that if such items are found by our officers they will be seized and people could face substantial fines."
The UKBA work closely with Department of Agriculture and Rural Development in Northern Ireland to tackle the illegal imports of prohibited and restricted animal products.
Related Internet Links
The BBC is not responsible for the content of external sites.