Firefighters called out 277 times on Halloween night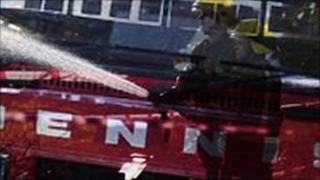 The fire service responded to 277 emergency calls across Northern Ireland on Halloween night.
Most incidents involved gorse, rubbish and bonfires. At one point fire control was handling a call every 90 seconds.
Although there was a slight increase on the number of calls from last year, the number of call-outs was down on the Halloween average of recent years.
A spokesman said firefighters had been able to carry out their duties with very little in the way of disturbance.
Fire service area commander Dale Ashford said while there had been a slight rise in the number of calls compared to last year, 2009 had seen a 50% drop compared to the previous five-year Halloween average.
"We put an awful amount of effort into getting that safety message out there," he said.
"Our crews and our districts and areas spend a lot of time engaging with the community and explaining the safety message and asking them to try and have fun in a safe way.
"Hopefully, it is the case that the message is getting across."