ATO carry out controlled explosions on World War II shells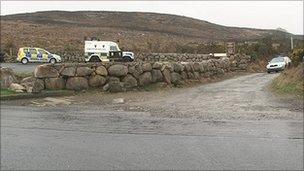 Controlled explosions have been carried out on two unexploded World War II shells which were discovered in a quarry in the Mourne Catchment area on Tuesday.
NI Water said the devices were discovered in Percy Bysshe quarry beside the Blue Lough in the Mournes. The quarry was used during the war as an artillery firing range.
Police and Army Technical officers secured the area before two controlled explosions were carried out.
NI Water has said the shells were "extremely dangerous".
"NI Water would appeal to hikers to avoid the area until the PSNI has given the all clear," a spokesperson said.
"NI Water would like to assure customers that there is no threat to the Mourne water supply."