What next for Sinn Fein in Republic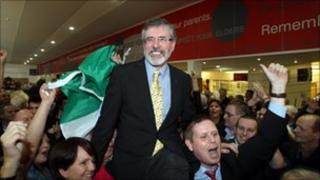 What will Sinn Fein do next? That's a question the party may not yet be able to answer.
Success in the Republic's general election, with 14 TDs elected, comes with its own dilemma.
The party needs to build on that tally for the next election in 2016, but it will also need to analyse the secret of its current success and see if the same recipe will do as well in five years' time.
Amidst all the focus on Gerry Adams' economic competence, it was probably missed that Sinn Fein used this election to redefine what it means to be a republican party.
This was clear watching Mr Adams, and others, during the campaign and it was explicit in the party's manifesto.
While the party affirmed in its introduction that "we are a United Ireland party", it is not until Part 3, Point 14 in the executive summary that we find the commitment to "a referendum on Irish unity". Not a united Ireland itself, but a referendum.
When challenged on last week's Politics Show whether the increase in Sinn Fein's vote was truly a vote for republicanism, and not just a protest vote, Gerry Adams was keen to stress what a 21st century Republic was - and it's nothing like the one we used to hear talked about from ard fheis platforms.
By measure of seats, Sinn Fein did spectacularly well in the election - more than trebling their representation since 2007.
But by increase in their share of the vote they did a lot less well.
Sinn Fein's share of the vote rose by 3%, from a small base of 6.9%. Fine Gael's, however, shot up 8.8% and Labour's was up 9.3%.
Analysis of the transfers suggests the party is still highly transfer toxic, meaning they didn't pick up many of those crucial votes which would have seen more candidates elected.
Most of the eliminated Fianna Fail votes ended up going towards independents or Labour.
The campaign Sinn Fein ran, the manifesto they published, all suggests they are aware of these shortcomings.
The party is not selling itself as the party of the peace process - that didn't work in 2007 - but the party of the "new Republic", an alternative to what's on offer elsewhere. Uniting Ireland isn't a vote winner in the Republic.
An electorate saddled with a huge deficit already doesn't need to add another £8 billion annually onto the books.
In opposition Sinn Fein will now have to choose between trying to hold populist ground - territory that Fianna Fail will fight to the death to occupy - or to move towards the left-wing independents.
Both are legitimate political positions to hold, but only one will be a passport to success in 2016. Experience would suggest success is more likely to come from the former than the latter.
But these are strange times.
Meanwhile, will success in the Republic bring further success for Sinn Fein in Northern Ireland's Assembly elections this May?
Certainly the party faithful will be energised, and a fresh crop of TDs to knock doors north of border will do no harm.
It's no surprise that the DUP should use this perceived threat as a means to scare unionist voters into action, but all unionists could perhaps take some comfort from the priority Sinn Fein itself is currently giving to a united Ireland.
On Sunday's Politics Show Yvette looks at the threat from dissident republicans and we hear from our local politicians on the latest budget discussions.
Jim
PS In the end Labour did well in the Irish election. But in the penultimate week they were losing ground.
Encountering a Fianna Fail-friendly SDLP MLA at Stormont I asked them if they were going to help out their pals, as Alex Attwood had pledged to canvass for Labour.
"Who asked him to do that? Fine Gael? That explains their drop in the polls," came the caustic response.