Alliance leader David Ford says Stormont reform overdue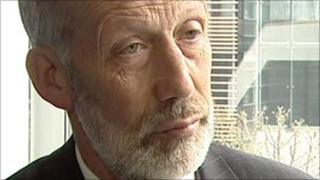 The Alliance Party could make two or three assembly elections gains which would entitle them to another seat in the Stormont executive, party leader David Ford has said.
Mr Ford said his party wanted changes to the Stormont system during the next assembly term, including cutting the number of departments down to seven or eight.
Party members observed a silent pause for reflection on the murder of Ronan Kerr before launching their election campaign at Belfast's Waterfront Hall.
Mr Ford said his party wanted to achieve "genuine power-sharing".
"I believe the system has to change: I believe we have to have fewer MLAs and fewer departments," he said.
"We need an executive which is formed as a voluntary coalition by a weighted majority.
"That will only happen when we persuade the people who currently hold a veto over it - the largest nationalist party - that we are doing that for reasons of good governance and it's not simply a mechanism to exclude them."