NI Assembly election candidates' deadline passes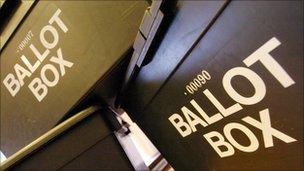 Nominations have closed for candidates wanting to stand in the Northern Ireland Assembly election on 5 May.
The deadline for submissions to the Electoral Office was 1300 GMT.
Each of Northern Ireland's 18 constituencies has six assembly seats; in total, 108 seats are being contested in the election.
Members of the Legislative Assembly (MLAs) are elected under the Single Transferable Vote system of proportional representation.
Seamus Magee of the Electoral Commission said: "If you are already registered to vote then you will have received your poll card by now.
"If you were expecting a poll card but haven't received it then you should call the helpline now on 0800 4320 712 to check if you're on the electoral register."
Voters who cannot make it to a polling station on the day have until Monday 11 April to apply for a postal or proxy vote.
Related Internet Links
The BBC is not responsible for the content of external sites.