NI Assembly election: full list of candidates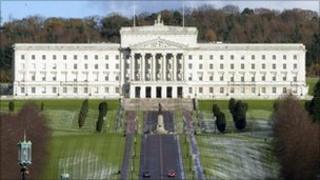 The full list of candidates for the Northern Ireland Assembly election on 5 May has been released by the Electoral Office.
Each of Northern Ireland's 18 constituencies has six assembly seats; in total, 108 seats are being contested in the election.
Members of the Legislative Assembly (MLAs) are elected under the Single Transferable Vote system of proportional representation.
A total of 218 candidates will be standing. The largest number is in East Belfast, where 17 candidates are seeking election, while the smallest number - 10 - is in South Antrim.
East Antrim
Roy Beggs: UUP
Stewart Dickson: Alliance Party
Daniel Donnelly: Green Party
David Hilditch: DUP
Gordon Lyons: DUP
Justin McCamphill: SDLP
Rodney McCune: UUP
Oliver McMullan: Sinn Fein
Steven Moore: British National Party
Gerardine Mulvenna: Alliance Party
Alastair Ross: DUP
Ruth Wilson: TUV
Sammy Wilson: DUP
East Belfast
Tommy Black: Socialist Party
Judith Cochrane: Alliance Party
Ann Cooper: British National Party
Michael Copeland: UUP
Sammy Douglas: DUP
Brian Ervine: PUP
Martin Gregg: Green Party
Chris Lyttle: Alliance Party
Kevin McNally: Workers Party
Robin Newton: DUP
Niall Ó Donnghaile: Sinn Fein
Dawn Purvis: Independent
Peter Robinson: DUP
Philip Robinson: UUP
Stephen Stewart: Independent
Harry Toan: TUV
Magdalena Wolska: SDLP
East Londonderry
Bernadette Archibald: Sinn Fein
Gregory Campbell: DUP
Thomas Conway: SDLP
John Dallat: SDLP
Boyd Douglas: TUV
Barney Fitzpatrick: Alliance Party
David Harding: UUP
Lesley Macauley: UUP
David McClarty: Independent
Adrian McQuillan: DUP
Cathal Ó hOisin: Sinn Fein
George Robinson: DUP
Fermanagh/South Tyrone
Pat Cox: Independent
Kenny Donaldson: UUP
Alex Elliott: TUV
Tom Elliott: UUP
Phil Flanagan: Sinn Fein
Arlene Foster: DUP
Tommy Gallagher: SDLP
Michelle Gildernew: Sinn Fein
Sean Lynch: Sinn Fein
Maurice Morrow: DUP
Hannah Su: Alliance Party
Foyle
Martina Anderson: Sinn Fein
Pól Callaghan: SDLP
Terry Doherty: Independent
Mark H Durkan: SDLP
Colum Eastwood: SDLP
Paul Fleming: Sinn Fein
William Hay: DUP
Eamonn McCann: People Before Profit Alliance
Raymond McCartney: Sinn Fein
Paul McFadden: Independent
Keith McGrellis: Alliance Party
Pat Ramsey: SDLP
Lagan Valley
Pat Catney: SDLP
Jonathan Craig: DUP
Paul Givan: DUP
Brenda Hale: DUP
Mark Hill: UUP
Trevor Lunn: Alliance Party
Basil McCrea: UUP
Edwin Poots: DUP
Conor Quinn: Green Party
Mary-Kate Quinn: Sinn Fein
Lyle Rea: TUV
Mid-Ulster
Harry Hutchinson: People Before Profit Alliance
Austin Kelly: SDLP
Gary McCann: Independent
Hugh McCloy: Independent
Ian McCrea: DUP
Michael McDonald: Alliance Party
Patsy McGlone: SDLP
Martin McGuinness: Sinn Fein
Walter Millar: TUV
Ian Milne: Sinn Fein
Francie Molloy: Sinn Fein
Michelle O'Neill: Sinn Fein
Sandra Overend: UUP
Newry and Armagh
Cathal Boylan: Sinn Fein
Dominic Bradley: SDLP
Mickey Brady: Sinn Fein
Barrie Halliday: TUV
William Irwin: DUP
Danny Kennedy: UUP
James Malone: Independent
Conor Murphy: Sinn Fein
David Murphy: Alliance Party
Thomas O'Hanlon: SDLP
Robert Woods: UKIP
North Antrim
Jim Allister: TUV
Jayne Dunlop: Alliance Party
Paul Frew: DUP
Bill Kennedy: UUP
David McIlveen: DUP
Daithi McKay: Sinn Fein
Declan O'Loan: SDLP
Audrey Patterson: TUV
Evelyne Robinson: DUP
Mervyn Storey: DUP
Robin Swann: UUP
North Belfast
Paula Bradley: DUP
Fred Cobain: UUP
William Humphrey: DUP
Gerry Kelly: Sinn Fein
John Lavery: Workers Party
JJ Magee: Sinn Fein
Alban Maginness: SDLP
Nelson McCausland: DUP
Raymond McCord: Independent
Caral Ni Chuilin: Sinn Fein
Billy Webb: Alliance Party
North Down
Steven Agnew: Green Party
Colin Breen: UUP
Alan Chambers: Independent
Leslie Cree: UUP
Gordon Dunne: DUP
Alex Easton: DUP
Stephen Farry: Alliance Party
Conor Keenan: Sinn Fein
Liam Logan: SDLP
Alan McFarland: Independent
Fred McGlade: UKIP
Peter Weir: DUP
Anne Wilson: Alliance Party
South Antrim
Thomas Burns: SDLP
Trevor Clarke: DUP
Adrian Cochrane-Wilson: UUP
David Ford: Alliance Party
Paul Girvan: DUP
Danny Kinahan: UUP
Pam Lewis: DUP
Mel Lucas: TUV
Mitchel McLaughlin: Sinn Fein
Stephen Parkes: British National Party
South Belfast
Clare Bailey: Green Party
Brian Faloon: People Before Profit Alliance
Mark Finlay: UUP
Anna Lo: Alliance Party
Paddy Lynn: Workers Party
Alex Maskey: Sinn Fein
Conall McDevitt: SDLP
Alasdair McDonnell: SDLP
Michael McGimpsey: UUP
Paddy Meehan: Socialist Party
Ruth Patterson: DUP
Samuel Smyth: Procapitalism
Jimmy Spratt: DUP
Nico Torregrosa: UKIP
South Down
Naomi Bailie: Sinn Fein
Willie Clarke: Sinn Fein
Cadogan Enright: Green Party
David Griffin: Alliance Party
John McCallister: UUP
Karen McKevitt: SDLP
Eamonn O'Neill: SDLP
Henry Reilly: UKIP
Margaret Ritchie: SDLP
Caitriona Ruane: Sinn Fein
Jim Wells: DUP
Strangford
Cecil Andrews: UKIP
Jonathan Bell: DUP
Joe Boyle: SDLP
Mickey Coogan: Sinn Fein
Simon Hamilton: DUP
Kieran McCarthy: Alliance Party
Michelle McIlveen: DUP
David McNarry: UUP
Mike Nesbitt: UUP
Billy Walker: DUP
Terry Williams: TUV
Upper Bann
Sydney Anderson: DUP
Joanne Dobson: UUP
Sam Gardiner: UUP
Harry Hamilton: Alliance Party
Dolores Kelly: SDLP
Colin McCusker: UUP
Johnny McGibbon: Sinn Fein
Sheila McQuaid: Alliance Party
Stephen Moutray: DUP
John O'Dowd: Sinn Fein
Barbara Trotter: UKIP
David Vance: TUV
West Belfast
Alex Attwood: SDLP
Gerry Carroll: People Before Profit Alliance
Colin Keenan: SDLP
Brian Kingston: DUP
Pat Lawlor: Socialist Party
John Lowry: Workers Party
Bill Manwaring: UUP
Paul Maskey: Sinn Fein
Fra McCann: Sinn Fein
Jennifer McCann: Sinn Fein
Dan McGuinness: Alliance Party
Brian Pelan: Independent
Sue Ramsey: Sinn Fein
Pat Sheehan: Sinn Fein
West Tyrone
Michaela Boyle: Sinn Fein
Allan Bresland: DUP
Thomas Buchanan: DUP
Eric Bullick: Alliance Party
Joe Byrne: SDLP
Pat Doherty: Sinn Fein
Ross Hussey: UUP
Declan McAleer: Sinn Fein
Barry McElduff: Sinn Fein
Paddy McGowan: Independent
Eugene McMenamin: Independent