NI Assembly election: 218 candidates chase 108 seats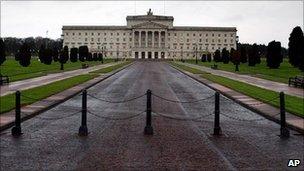 The full list of candidates standing in the assembly election on 5 May has been published by the Electoral Office.
The overall number of people standing in this election is down by almost 40 on the last assembly poll in 2007.
A total of 218 candidates are chasing 108 seats, which means that close to half of those standing will be going to Stormont.
The DUP has the largest number of candidates with 44; followed by Sinn Fein with 40.
The Ulster Unionists, who have 29 candidates, are surprisingly not standing in Foyle, while the SDLP is fielding 28 candidates.
The Alliance Party is standing 22 candidates, its biggest number for an assembly election.
The Green Party is standing in six constituencies, while the People Before Profit Alliance and the Workers Party are standing in four and the Socialist Party in three.
Of the parties appearing for the first time in an assembly election, Traditional Unionist Voice has the largest representation with 12 candidates followed by UKIP with six; and the BNP with three.
There are also 15 Independents.
The electorate in East Belfast will have the largest number of candidates on their ballot papers, with 17; the voters of South Antrim will have the fewest with 10.
Related Internet Links
The BBC is not responsible for the content of external sites.