Queen's Dublin visit: Sinn Fein urge 'elderly' respect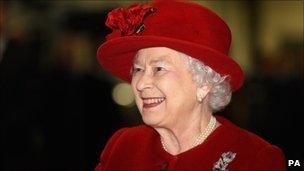 Sinn Fein has urged any protests over the Queen and Prince Philip's Irish Republic state visit to be peaceful, as they are an "elderly couple".
Deputy leader Mary Lou McDonald called for demonstrations to be democratic, peaceful and respectful.
"On a human level, nobody wishes to be unnecessarily confrontational for the sake of it," she said.
It is the first state visit to the Irish Republic by a British monarch since independence.
Ms McDonald said Sinn Fein would be staging events surrounding the four-day visit beginning on 17 May, but its members would not get involved in any confrontations.
"Those that espouse republican values and that object legitimately to this visit should not cast a slur on republicanism by having confrontation and aggro on the streets," she said.
The tour, announced last month, will include a ceremony in Dublin's Garden of Remembrance and a visit to the Irish prime minister at Government Buildings.
The Queen will also make a speech at a state dinner at Dublin Castle.
Meanwhile, DUP leader Peter Robinson has welcomed the GAA's invitation to the Queen to Croke Park and its prominent role in the funeral of Constable Ronan Kerr.
Mr Robinson said these were developments that would not have been seen 10 or 20 years ago and showed that people were making an effort to "get out of their comfort zones and reach out to others".
UUP leader Tom Elliot also welcomed the moves, although he noted that there is still more to be done to achieve a more mutually respectful society, "particularly around the naming of GAA grounds and clubs, who are named after former terrorists".
The SDLP's Conall McDevitt was supportive of the Queen's visit, and particularly of the GAA's invitation.
"I think it's time for us all to understand that shaking the Queen's hand or meeting the Pope isn't going to undermine anyone's identity, isn't going to cause the sky to fall in," he said.
Alliance Party leader David Ford praised the GAA for "moving their organisation into an entirely different place from where it was ten years ago".
"I just want to see a number of other organisations moving the same way," he added.