NI politics newcomers could be 'cappuccino moment'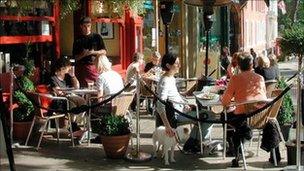 If, like me, you grew up in Northern Ireland during the 1970s and 80s, or before, you will probably remember the gastronomic revolution that was the introduction of cappuccino to cafe menus.
Until relatively recently, the choice of coffee on offer was between "black" and "white".
Nowadays not only do we have mundane old cappuccino, but an infinite variety of styles, sizes and strengths to suit our cosmopolitan palettes.
It may not be obvious, but you could argue that the introduction of parties like UKIP, People Before Profit, and even the BNP, to the assembly election ticket is Northern Ireland politics' "cappuccino moment".
Not for what these parties, and others, individually stand for, but for what their entrance onto the political scene says about the changing nature of what's on offer.
It marks a catching-up for Northern Ireland, with a strange mixture of new entrants based on the fact that we seem to be catching up with different trends in Great Britain and the Republic of Ireland at the same time.
Of course, others have tried before to break the mould of Northern Ireland politics.
The less said about UCUNF the better, while Fianna Fail never walked the walk when it came to organising north of the border.
What's happening with these smaller parties is less an attempt to break the mould, than nibble their way through it.
The fact that Alliance, with its leader on the Northern Ireland Executive and its deputy leader sitting at Westminster, no longer falls into the "small parties" camp is an example of how the mould has already changed, if not cracked.
Will any of these other small parties and independents make it through to Stormont after polling day? We can't say for sure, but a few will be worth watching closely.
The Greens will be fighting hard to retain their seat in North Down, with local leader Stephen Agnew in the running but facing the bizarre prospect of his retiring MLA Brian Wilson running for local government in the same constituency as an independent, while his wife Anne Wilson stands for Alliance in the assembly poll.
The TUV leader Jim Allister will be hoping to translate his Westminster poll results into a seat in the assembly.
If his vote holds up, that's not unlikely, but as a party they face a tougher fight in other constituencies with less prominent candidates.
One thing worth noting: these parties are small and some are considered fringe, but they're testing their support before the electorate, something the violent dissident republicans who murdered Constable Ronan Kerr aren't willing to do.
Support isn't something they crave as they believe their legitimacy comes from votes cast for Sinn Fein in the 1918 general election in Ireland.
Given that the youngest voters in 1918 were 21, they would be 114 today, were they alive.
It's reasonable, therefore, to suggest that pretty much everyone who voted in that election is now dead.
We're unlikely to hear anyone explain how they derive support from dead voters in an election long passed, but if they ever stood for election it's a question I'd like to ask.
Meanwhile, on this Sunday's Politics Show we'll hear from some of those smaller parties who are standing. Join us for an hour-long special at 1200 GMT.