Jim Allister says TUV 'can be catalyst for change'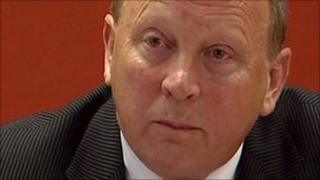 Traditional Unionist Voice can be a catalyst for change at Stormont, party leader Jim Allister has said.
Launching the TUV's assembly election manifesto, Mr Allister said Stormont needed an opposition.
Mr Allister said the people of Northern Ireland were entitled to the same standards of democracy as other British citizens.
"I'm simply saying to the people of Northern Ireland, 'are you happy with what you've got?'," he said.
"Do you want more of the same - four more years of squabble, deadlock, waste and inactivity at Stormont, where the biggest success that can be claimed is that the doors are still open, while there's 60,000 people unemployed, huge waste, phenomenal loss in education and health - or do you want something better?"
Pledges in the TUV manifesto include:
Make the Stormont Executive a voluntary coalition so the executive can be held to account by an opposition;
Get Northern Ireland back to work by focusing on employment, and strengthen "wealth-creating" private sector;
Focus on east-west links with the "more vibrant" British economy rather than with the "bankrupt" Irish Republic;
Improve the health service and put patients' needs first;
Support post-primary academic selection;
Cut north/south bodies, and stop financial waste at Stormont;
Oppose Sinn Fein at every level within government.