SDLP denies purdah breach over DSD housing figures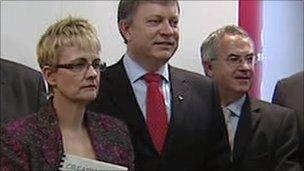 The SDLP has denied there could have been any breach of election guidelines following an announcement the party made on social housing.
Official guidelines intended to keep civil servants and executive departments out of party politics during election campaigns are known as purdah.
The party said on Tuesday new figures released by the Department for Social Development showing they had exceeded the target for new social housing were "cast-iron evidence" of the party delivering in government.
Social Development Minister Alex Attwood denied it was a breach of the purdah rules.
"This is an announcement about good government, just as we've had other such announcements over the last 10 days," he told journalists.
"If anyone begins to complain today, they should ask themselves what were they announcing over the last 10 or 12 days, because this is a red herring in order to distract people away from the fact that DSD and the SDLP were able to achieve something for people in Northern Ireland."
The minister said he had authorised a statement on the figures from his department before 0900 BST.
SDLP leader Margaret Ritchie said the figures had "already or were currently being released by the department".
A department spokesman finally confirmed the figures several hours later.
"We have no further comment to make and will not be issuing any further statement," he added.
Related Internet Links
The BBC is not responsible for the content of external sites.