Alliance Party manifesto backs 'fair' NI water charges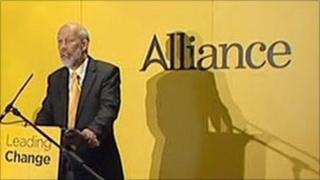 Water charges should be introduced in Northern Ireland as long as they are "fair", the Alliance Party has said.
In its assembly election manifesto, it says the charge should be linked to ability to pay and how much water households use so the provision of water meters must be "central."
The party says the regional rate should be reduced by the amount paid by households through the new system.
Not having water charges means deeper cuts in public services, it says.
The party claims that in essence, people are already paying for water through an under-funded health service.
The 150-page manifesto, which the party claims is the "most comprehensive and ambitious" ever produced by a party in Northern Ireland, also calls for a new Department for the Economy to be set up while reducing the overall number of departments from 12 to eight.
Alliance Party leader David Ford claimed that the election would see enough assembly members returned to guarantee another seat at the Executive table in addition to the one he already holds as justice minister.
"This is not a manifesto of changes that we want others to deliver," he said.
"It's a manifesto of changes that we want to deliver."
Other pledges in the Alliance Party manifesto include:
Cutting the number of MLAs to 80;
Opposing "unfair" increases in student tuition fees;
Promoting a cross-party working group to discuss and agree major reforms within the health service;
Having 20% of children in integrated schools and 40% in mixed schools by 2020;
Putting in place legislation that ensures the Housing Executive encourages and facilitates mixed housing;
Introducing a lower rate of corporation tax;
Ceasing tolerance of illegally-erected flags and emblems, and working with communities to secure the removal of 'peace walls'.