Alliance leader David Ford calls for growth 'road map'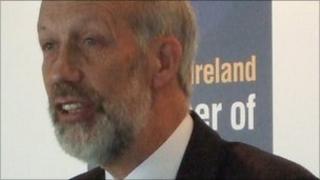 Stormont ministers must urgently develop a road map for economic growth, Alliance leader David Ford has said.
Mr Ford told the NI Chamber of Commerce his party was "committed to delivering an economic revolution".
"The window of opportunity is closing - the executive has had four years and so far has failed to deliver the step change required," he said.
"Every party believes we need economic growth, but all parties must now step up and commit to immediate action".
Mr Ford outlined five areas which he said the executive must commit to delivering within 12 months.
A commitment to identify and address the costs of division;
Corporation Tax fully negotiated with Treasury and legislation through Westminster;
Allocation of funding support for the Green New Deal;
Development of a more responsive system of skills delivery;
More finance options for high-growth small businesses.