DUP slams postal vote ballot paper 'blunder'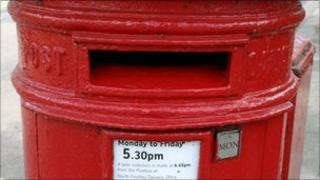 The DUP has described as "shambolic" an Electoral Office error after one of its candidates was mistakenly listed as a UUP member on postal ballot papers.
Postal voters in Lagan Valley received papers listing DUP candidate Brenda Hale as an Ulster Unionist.
The mistake affected 1,240 postal ballot papers.
DUP Director of Elections Simon Hamilton said it was a "critical mistake by the Electoral Office with potentially far-reaching consequences".
"The Electoral Office are simply re-issuing ballot papers with an accompanying letter explaining their mistake," he said.
"A mere letter does not go far enough to rectify something which could have potentially far-reaching effects in the result of the election.
"Elections under the PR system can sometimes turn on very small margins and this blunder puts Brenda Hale at a particular disadvantage."
An Electoral Office spokesperson said it "regrets any inconvenience to electors and candidates, and has taken immediate steps to rectify the error".
There are 11 candidates standing for election in the Lagan Valley constituency. A full list is available on the BBC News website.