Tom Elliott stands by Peter Robinson Sinn Fein remark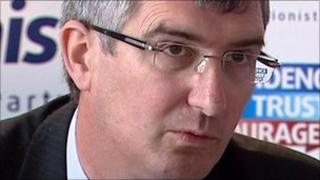 Ulster Unionist leader Tom Elliott has said he stands by remarks he made about DUP leader Peter Robinson.
Mr Elliot claimed in last week's UTV leaders' debate Mr Robinson had rated as "great" the performance of Sinn Fein education minister Caitriona Ruane.
Mr Robinson said at the time this was "an absolute, unmitigated lie".
On reports that the DUP were considering legal action, Mr Elliott said on Wednesday he had not received any correspondence about this.
Mr Robinson said he could not allow Mr Elliott's remarks to stand, and he would "leave it to the lawyers" to deal with the matter.
The DUP leader confirmed on Wednesday that he had commended the budgetary discipline of the education department along with three others in a Belfast Telegraph interview.
However, he insisted the comments did not substantiate Mr Elliott's remarks, and accused the UUP leader of "wriggling and squirming" over the comments.
Mr Elliott criticised the DUP's record in the Stormont Executive, describing Sinn Fein and the DUP as "the Siamese twins".
"In the world of the DUP, success is survival," he said.
Mr Elliot said the DUP had failed to include the UUP and the SDLP in executive business, adding that the DUP had failed "to control Sinn Fein ministers who went on solo runs".
The UUP leader also said his party would not "cosy up to Sinn Fein" and he claimed that the DUP were "more at ease taking on other unionists than republicans".
Mr Robinson rejected UUP claims that voting DUP is a "two-for-one deal" because of the party's close relationship with Sinn Fein.
Mr Robinson said it was "a four or five-for-one deal" under the Stormont system, which he said the UUP had helped design.
"They did a bad job, we are trying to improve it," he said.
The DUP has also been criticised by Traditional Unionist Voice leader Jim Allister.
"The DUP is so wedded to joint Sinn Fein rule that it has now confirmed that if it is the biggest party it will pass on education and let Sinn Fein have it," Mr Allister said.
"It is also clear - from their refusal to answer the question - that the DUP fully intends to serve under (Martin) McGuinness, if Sinn Fein should benefit from their change in the law and emerge as the biggest party."
He said the DUP should be pledging "to band together with other unionists after the election to end failed mandatory coalition and demand a workable voluntary system as the way ahead".