Martin McGuinness: Dissidents 'snubbed election chance'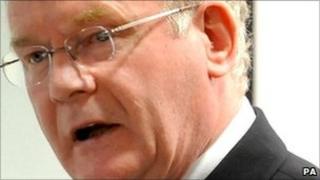 Dissident republicans should have stood for election if they believed they had widespread support, Sinn Fein's Martin McGuinness has said.
Mr McGuinness said groups opposed to the peace process were "very tiny and totally unrepresentative".
"In these assembly elections, there was an opportunity if these people felt they had support for their political objectives to put themselves forward," he said.
"The vast majority of republicans who went through the prisons, who were in the IRA, or who were in Sinn Fein voted in support, within their own organisations, for this peace process and have adhered to that.
"It is a matter of historical fact that a tiny number of people who were not in favour of the new way forward decided they would go off and do their own thing."
Mr McGuinness said electoral gains made by Sinn Fein "sends a message to people about how society is changing".
"There are more Irish republicans in the north of Ireland now than at any time in the history of the northern state," he added.