NI political hopefuls face anxious wait for results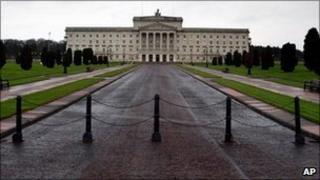 Candidates in NI's assembly and council elections face an anxious wait to find out if they have been elected or if newcomers, elected for the first time.
A total of 218 candidates are chasing 108 seats, which means that close to half of those standing will not be going to Stormont.
The overall number of people standing in this election is down by almost 40 on the last assembly poll in 2007.
Candidates in the NI council elections will have to wait until at least Monday, when counting begins to fill 582 council seats.
The DUP's Ian Paisley Junior, who is not standing in the assembly elections this time, said he thinks the party will fare well in the election.
"I think 2007 was a high water mark for the party but I would be quietly confident that we've had a very good election," he said.
Waiting game
"I think like most people there's very little point trying to predict what's going to be the outcome in a matter of hours but I'm more than happy to wait for the ballot boxes to be opened and the real verdict to be read out."
Mr Paisley said predictions of a low turn-out on Thursday may turn out to be correct.
"I can only talk with some authority about my own constituency," he said.
"I predict looking at what happened on Thursday, we're probably down 2% or 3% of the vote that we were this time last year, in terms of turnout.
"That would be about 8% down from where we were at the last assembly election.
He views this as a sign that politics in Northern Ireland is "normalising".
Bread and butter issues
"It is frankly becoming more and more boring and that's a good thing in the sense that we don't want the politics to be about the latest atrocity," he said.
"We want politics to be about normal bread and butter issues. Normal politics does not inspire lots and lots of people to come out to vote."
Sinn Fein's Alex Maskey, who is hoping to retain his assembly seat in south Belfast, said the party had "put our work in on the doorstep".
"We were told by many of the other parties and the pundits in 2007, no it couldn't last, Sinn Fein and the DUP couldn't work together, it would never happen but we've proved all of that wrong," he said.
"More importantly, I think we have managed to surmount quite a number of very difficult obstacles, not least, the transfer of policing and justice and we just finalised a budget very recently against very tight constraints.
"I think we've proved the point to people that politics here can work, that the transfer of powers to devolution here is good for the people."
Another MLA waiting on the results is the SDLP's Conall McDevitt.
Nervous
He was selected by the party to replace Carmel Hanna, who stood down in 2009.
"This was my first election and whilst I saw many people walking through the gates of the polling stations across south Belfast on Thursday with a smile or a wave for me, I think it doesn't take away from the nerves that I'm sure even the most seasoned of candidates will be feeling at this stage, " said.
"Although the people have spoken, none of us know what they have said."
Mr McDevitt said this election has been the "first of a new era of elections in many ways".
"I think it's the first election that hasn't been solely dominated by the peace process," he said.
"It's also been an election where among all the parties, a new generation has begun to emerge on the ballot papers.
"I really don't know if a reduced poll is going to favour one party over the other, it's patchy here in south Belfast."
Ulster Unionist Danny Kennedy and former employment minister at Stormont, is also waiting to see if he will be re-elected in Newry and South Armagh.
"We're not bracing ourselves at all for bad news. We're waiting with hopeful expectation," he said.
"We've been written off before, in fact even during the course of this campaign.
"Certainly the response on the doors that we had, and the response on Thursday, albeit in a greatly reduced poll, is that we are still travelling hopefully."