PUP leader Brian Ervine to stand down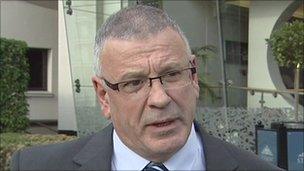 Progressive Unionist Party leader Brian Ervine is to resign following his failure to win a seat in the assembly elections.
Mr Ervine said he was going so he could return to his former job as a teacher of young adults with literacy problems.
The east Belfast man, whose late brother David led the party for several years, was elected leader last October.
He took over from interim leader Dr John Kyle, who had taken the role after Dawn Purvis quit the party.
She did so in protest at the UVF murder of Belfast man Bobby Moffett.
Accounts published by the Electoral Commission last month showed that the PUP ran a deficit of more than £57,000 last year.