RTE presidential debate was show trial says Martin McGuinness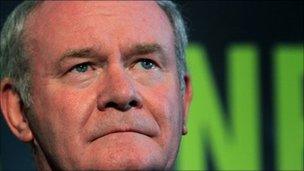 Sinn Fein's Martin McGuinness has said Wednesday's Irish presidential debate on RTE amounted to "trial by television".
"I thought it was wrong, I thought it was unfair and I thought it was totally out of order," Northern Ireland's deputy first minister said.
He told RTE that he did not have a row with Prime Time's Miriam O'Callaghan, but talked to her after the show.
"It was a very low key encounter in terms of no raised voices," he said.
"I expressed my disappointment at the way the debate was handled."
"I was accused of being a murderer. That was wrong," said Mr McGuinness, adding that he was then "subject to a show trial on television".
"Miriam went round all the other candidates and asked each and every one of them if I was suitable to be president.
"She didn't ask me if I thought any of them were suitable to be president of Ireland," he said.
Speaking at the Cavan Institute on Thursday, Mr McGuinness also replied to claims repeated by Environment Minister Phil Hogan, that, if elected, the Sinn Fein man would be bad for inward investment.
"I'm glad he's said that again. He just made a fool of himself twice," he said, pointing out that he and First Minister Peter Robinson had secured thousands of jobs for Northern Ireland from major US companies such as Citigroup.
Later on Thursday, Mr McGuinness told a Dublin rally that he intends to use the balance of his presidential salary to give jobs to six young unemployed people.
He told 400 people at the Mansion House in Dublin that if he won, he would ensure that the money did not go to any political party or back to the exchequer.
He has already said he will only accept the average industrial wage of 35,500 euro.
The current presidential salary is 292,000 euro.