Court regrets Loreto school building ruling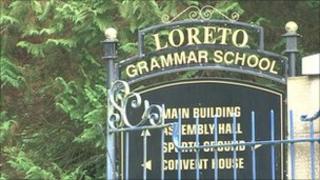 The Court of Appeal has rejected a judgement that an Omagh grammar school had a "legitimate expectation of getting a new building".
The court said it reached that decision with regret.
Loreto Grammar said it was promised a new build on its current site by an NIO minister in 2004. This decision was reversed by Caitriona Ruane in 2010.
However, the court ruled the Department of Education was wrong to label the schools plans as non-compliant.
The three judges said the department's decision was flawed and has been quashed by the court.
In ruling the court said: "The representations and actions by the Department of Education and the minister of education did not give rise to a substantive legitimate expectation that a new Loreto Grammar School, financed by public funding, would be built on the existing site."
Legal costs
A new-build for Loreto Grammar was part of a major expansion plan for schools across Northern Ireland announced by direct-rule minister Barry Gardiner in 2004.
However, proposals were later made for a shared education campus on the site of the old Lisanelly military barracks.
In 2010 Ms Ruane, the then education minister, said she wanted Loreto Grammar to be re-built as part of this multi-school complex.
The school has been awarded all legal costs and said it was satisfied the case had been given a thorough hearing.
It said it looked forward to talking to the Department of Education about a new building which it said is desperately needed.
In response to the judgement the current minister for education, John O'Dowd, said: "I welcome the prompt delivery of this judgement and will consider the detail and implications of the judgement in due course.
"I am keen to move forward constructively in the best interests of the young people of the area."