West Cork: Search for missing trawler crew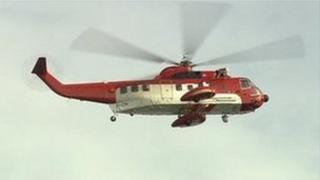 Five men are still missing after a fishing trawler sank off the west Cork coast on Sunday morning.
At 06:00 GMT, the 'Bonhomme' sent out a distress signal after it got into difficulty off the Glandore Coast. A crew of six men were on board.
One man was rescued and is being treated at Cork University Hospital. Earlier, it was thought that a body had been recovered.
A major search operation is under way.
It is thought the Irish skipper had four Egyptian crew members on board.
They had also been joined by a local young man on his first fishing trip.
The person who has been rescued is Egyptian, the Irish coastguard has said.