Peter Robinson says no need for opposition referendum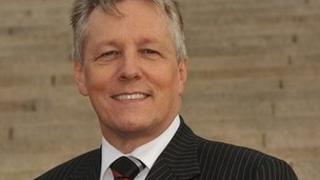 The first minister has dismissed suggestions that there should be a referendum on whether the Stormont system needs to be changed to include an opposition.
Ulster Unionist leadership contender Mike Nesbitt said the electorate should be able to air their views.
He said there had been "significant changes" since the Good Friday Agreement.
Peter Robinson said voters had already made clear their views.
Speaking from Washington where he will meet with President Obama on Tuesday, Mr Robinson said there was no need a referendum.
"I have an election mandate. We went to the people, we told them the changes that we wanted to make," he said.
"We don't need any referendum, they have already told us what changes they want."
Deputy First Minister Martin McGuinness said Sinn Fein would not support any move to hold a referendum.
"I think such a proposal would be treated with the gravest suspicion within the broad nationalist and republican community," he said.
"I think people would see it as an attempt by someone who is challenging for the leadership of the Ulster Unionist Party to turn the clock back."
Ulster Unionist Mike Nesbitt has said he would like Northern Ireland to hold a referendum to allow people to vote on political and constitutional changes.
He said it would enable the electorate to decide whether Stormont should have an official opposition.
The Strangford MLA is running for leadership of the party, along with the South Down MLA John McCallister.
Mr McCallister said he would withdraw the party from the executive but keep MLAs on the departmental committees.
Legislation
Speaking to the Sunday Politics programme, Mr Nesbitt said there had been "significant changes" since the 1998 Good Friday Agreement.
"I do want an opposition, I want to see the secretary of state legislate to bring in an opposition," he said.
Mr Nesbitt said he believed the two largest parties, the DUP and Sinn Fein, would not vote to support an opposition and for this reason he wanted to give the public an opportunity to express their views.
"I would like us to have a referendum, a referendum on the major constitutional changes that have occurred since 1998 and the Belfast Agreement," he said.
"Let's put it to the people - not the parties who have a vested interest in the status quo."
However, Mr Nesbitt said that he did not want the leadership contest to be hinged on a referendum.
"I don't want this leadership contest to be about a referendum on being in or out of government... the next leader needs to do a good shift."
Deputy Leader Mr McCallister also appeared on the programme.
He has previously said he wanted the Ulster Unionists to form an opposition to the Stormont executive if he was elected.
On Sunday, the South Down assembly member said this would mean the party would lose a ministerial position but chairs and deputy chairs of committees would remain as they were "part of the legislative branch of government".
'Alternative'
He explained this would be an informal opposition as there was "no legislation or structures at the moment".
"We will be an opposition and hold this administration to account and provide people of Northern Ireland an alternative at the next assembly elections," he added.
"It is actually healthy to have an opposition, every type of democratic system in the world has an opposition or checks and balances on power and that's what we need."
TheNewsletter's political correspondent Sam McBride told the Sunday Politics the two men were very similar.
"Both Mike Nesbitt and John McCallister are from broadly the liberal, the civic, the moderate wing of the UUP," he said.
"In some ways there's not really going to be too much which divides them other than views on opposition."
Voting will take place next week and the leader will be elected at the party's AGM on 31 March.