Nelson McCausland exclusion bid fails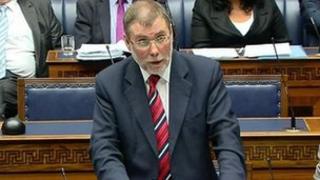 An exclusion motion against Social Development Minister Nelson McCausland has failed in the Northern Ireland Assembly.
Mr McCausland had been accused by the SDLP of breaking the ministerial code of conduct.
The SDLP and Sinn Fein wanted him banned from office for three months.
The parties said the minister failed to condemn loyalist bands who breached Parades Commission rulings in north Belfast last month.
The Ulster Unionist party voted with the DUP against the motion.
One unionist, independent MLA David McClarty, voted to exclude Mr McCausland. The UUP's Basil McCrea and John McCallister didn't vote on the motion.
Mr McCausland said he had broken neither the ministerial code of conduct nor pledge of office and said a transcript of his comments would show this to be true.
He attacked the SDLP for bringing the censure motion before the assembly.
Mr McCausland accused the SDLP of double standards by failing to condemn its party member and MLA, Colum Eastwood, over his attendance at a friend's funeral which had a paramilitary display.
Opening the debate, SDLP leader Alasdair McDonnell said the minister did not uphold the rule of law and must accept the consequences.
Dr McDonnell said his party was born out of the civil rights movement, but insisted the context was different.
Questions
He said the conduct of marchers outside St Patrick's Church on 12 July was not civil disobedience, but a criminal act.
DUP leader and First Minister Peter Robinson said there was no case to answer and challenged nationalists over their own record in terms of civil disobedience and law-breaking.
He asked if the SDLP was prepared to condemn the actions of civil rights marchers.
Mr Robinson claimed the real purpose of the motion on Monday was to raise tensions.
UUP leader Mike Nesbitt said he was "no apologist" for Mr McCausland or the DUP, especially as the party tended to attack people personally rather than focus on issues.
Last week, Dr McDonnell said his party was bringing forward the motion of censure over what the SDLP regarded as Mr McCausland's failure to condemn breaches of lawful determinations relating to recent parades.
He was referring to a parade on 12 July which passed outside St Patrick's Church on Donegall Street in north Belfast and breaches of Parades Commission rulings during the Royal Black Institution parade in the same area on 25 August.
In the subsequent riots last month, seven police officers were injured.
Sinn Fein's Raymond McCartney said "rather than stand on the side of the law and the Parades Commission" Mr McCausland had "repeatedly failed to condemn the sectarian behaviour of the bands and their supporters".