NI21 claims MEPs 'lukewarm on Europe'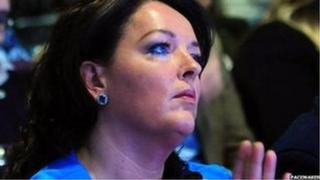 Northern Ireland's MEPs are either "lukewarm on Europe or hostile" to it according to NI21's Tina McKenzie.
Launching the party's European manifesto, she said the incumbent MEPs "don't value or even fully realise the role the European Union can play".
She said NI21 was standing on a platform of "radically reforming the politics of Northern Ireland".
The DUP, UUP and Sinn Féin were "primarily focussed on tribal divisions", she said.
The 14-point manifesto highlights the need for a reform of the European Union but stresses that Northern Ireland and the UK must stay as part of the EU.
Ms McKenzie said that if the UK withdrew from the EU it would "significantly damage our economy".
Tax dividend
The party, which was formed last year by former Ulster Unionists John McCallister and Basil McCrea, also argues that there should be a reformed European Commission with "commissioners heading a limited and focused number of policy portfolios".
On agriculture and food security, NI21 says the EU should introduce a regional model of the Common Agricultural policy that "promotes productivity, but does not discriminate against farmers in disadvantaged areas".
Ms McKenzie, a businesswoman who has never stood for election before, also believes that Northern Ireland MEPs and the assembly need to build a formal relationship.
On the issue of energy, the party says the UK government should devise a tax dividend for the assembly on shale gas extraction and invest that dividend on energy efficiency schemes.
Ms McKenzie also wants the north-south interconnector in place by 2015 and another connector by 2018.
On funding and economic matters NI21 argues that there should be an official European Union network of collaboration between small businesses, large companies and educational institutions.
NI21 would also lobby for an EU-sponsored network for young entrepreneurs.
The party believes that any future European Peace funding should be used to help people out of poverty and social exclusion.
Ms McKenzie said her party offered the electorate the chance to send an MEP to Europe "with a common vision that we unite as a people under one identity - Northern Irish".
She added that did not stop people celebrating their "Britishness or Irishness" or other identities.
The European poll takes place on Thursday 22 May along with elections to local councils.