Chancellor George Osborne 'hears Peter Robinson budget plan'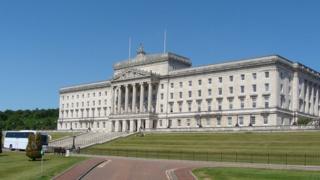 First Minister Peter Robinson has been in contact with Chancellor George Osborne to discuss proposals to ease Stormont's immediate financial challenges, the BBC understands.
Stormont ministers met in special session on Wednesday to discuss their £200m budgetary shortfall.
Few details have emerged about the ideas proposed by Mr Robinson and Finance Minister Simon Hamilton.
However, a source said the proposals were "an imaginative way forward".
Small step
The source said that if these were accepted by the Treasury, it should provide a way to deal with October financial decisions.
At their special meeting, ministers agreed that Mr Hamilton would bring forward a paper at their regular meeting on Thursday on the October monitoring round.
This is one of Stormont's regular budget reallocation processes, and there have been indications that some departments face cuts of 6%.
The move is a small step forward in the budgetary stand-off at Stormont.
Previously, Sinn Féin ministers have not allowed the finance department paper to be put officially on the executive agenda.
Instead, the budgetary shortfall has been discussed informally at the end of meetings.
Earlier this month, the head of the Northern Ireland Civil Service formally warned the Treasury that it was on track to go into the red by the end of this financial year.
Mr Robinson recently said the arrangements for devolved government at Stormont were "no longer fit for purpose".
On Tuesday, Prime Minister David Cameron said he did not want the Northern Ireland Executive to collapse.
He said what was in place was "far better than any of the alternatives".