New UUP MLA says gay bed-and-breakfast row 'in the past'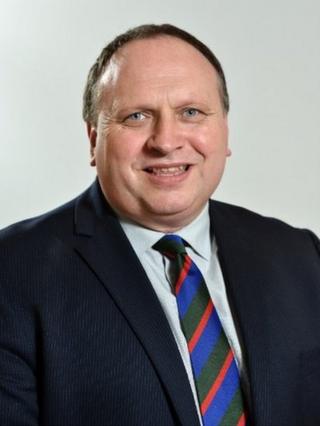 An Ulster Unionist who once claimed he was overlooked as a general election candidate due to his attitude to gay couples using his bed-and-breakfast business is joining the assembly.
Adrian Cochrane-Watson will replace Danny Kinahan, who became an MP in May.
The former Antrim councillor has said the row over him being "uncomfortable" with gay couples is "in the past".
He said he had "no difficulty" with members of the gay community and respected their rights.
In 2010, Mr Cochrane-Watson claimed the Conservatives felt he was unsuitable to run as a candidate during their electoral link-up with the Ulster Unionists for the general election.
Instead, the then Ulster Unionist leader Sir Reg Empey was chosen.
Conscience
Asked about the controversy on Wednesday, Mr Cochrane-Watson said "what happened in 2010 with the Conservatives is history as far as I'm concerned".
He added: "Gay marriage is a matter of conscience and within this party.
"That matter of conscience has to be respected, particularly for all public representatives".
Mr Kinahan, Mr Cochrane-Watson's predecessor, was the only Ulster Unionist MLA to vote in favour of gay marriage earlier this year.
Meanwhile, UUP leader Mike Nesbitt says he's embarrassed after a "counting error" was discovered after a selection meeting in Fermanagh and South Tyrone.
The meeting was called to choose an MLA to succeed former leader Tom Elliott, who is leaving the assembly after becoming an MP.
Embarrassing
Victims campaigner Kenny Donaldson and Rosemary Barton went forward for final selection by the party executive.
But a third candidate, former councillor Neil Somerville, said that after going through the paperwork the next morning an error was discovered.
"So, all three candidates were brought together before heading to party HQ and we agreed that three candidates should go forward for selection," Mr Somerville said.
He was eventually chosen to replace Mr Elliott.
Mr Nesbitt said: "I think we've all made counting errors in the course of our lives, hopefully not in as embarrassing circumstances as Monday night.
"Neil should have been second; he was called third. When the three candidates were informed of the error they all agreed that all three should come forward for final selection."