Martin McGuinness warns NI benefit protections will end if direct rule returns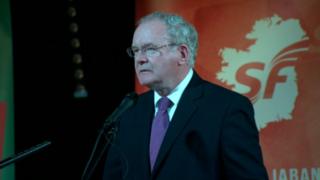 Public benefits protected by the Stormont Executive will not last long if direct rule returns Deputy First Minister Martin McGuinness has warned.
In a speech to Sinn Féin activists in Belfast, he listed the benefits that Stormont ministers have protected.
He said they had blocked water rates and protected free prescriptions, lower rates, lower student fees, free travel for pensioners and domiciliary care.
Stormont has been in crisis for weeks following the murder of an ex-IRA man.
Kevin McGuigan Sr was shot dead near his home in east Belfast in August, and following a police assessment that Provisional IRA members may have been involved, all but one of the Northern Ireland Executive's unionist ministers resigned in protest.
'Biggest threat'
Crisis talks involving Northern Ireland's five biggest parties, and the British and Irish governments, have been taking place over the past three weeks.
In his speech on Wednesday evening, Mr McGuinness said that a return to direct rule from Westminster would amount to "unfettered Tory rule" and what he called "an unrestrained onslaught on public services and the most vulnerable in our society".
He said the Westminster government's cuts to child and working tax credits for low income families, announced in July, effectively reneged on the Stormont House Agreement by attacking the working poor.
"I have been in the office of deputy first minister for eight years and the biggest threat to the institutions we are facing in all that time has been caused by the economic policies of this British government," Mr McGuinness said.
'Setback'
"The sheer scale of what the Tories are attempting to do is staggering. But Sinn Féin will not agree to this ideologically driven austerity agenda," he added.
Earlier, Secretary of State Theresa Villliers told the Conservative Party's annual conference that the future of Northern Ireland devolution is under threat.
However, she said a return to direct rule would be a "severe setback" for Northern Ireland's political process.