Michelle Gildernew back as Sinn Féin assembly election candidate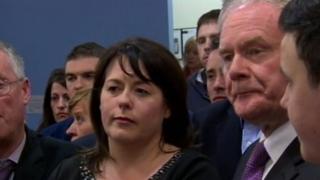 Michelle Gildernew is to run as a fourth candidate for Sinn Féin in Fermanagh and South Tyrone in this year's assembly election.
A team of three male candidates was selected last month which had resulted in the former agriculture minister being left off the ticket.
Ms Gildernew is the former MP for the constituency.
In December, Ms Gildernew was selected to run alongside sitting MLA Sean Lynch and local councillor John Feely.
However, earlier this year she was replaced on the ticket by the current MLA, Phil Flanagan, who missed out on selection at a previous selection convention six weeks ago.
The party has now decided to run four candidates in the constituency.