Government must deliver on £1bn DUP promise, says Tory MP
By Gareth Gordon
BBC News NI Political Correspondent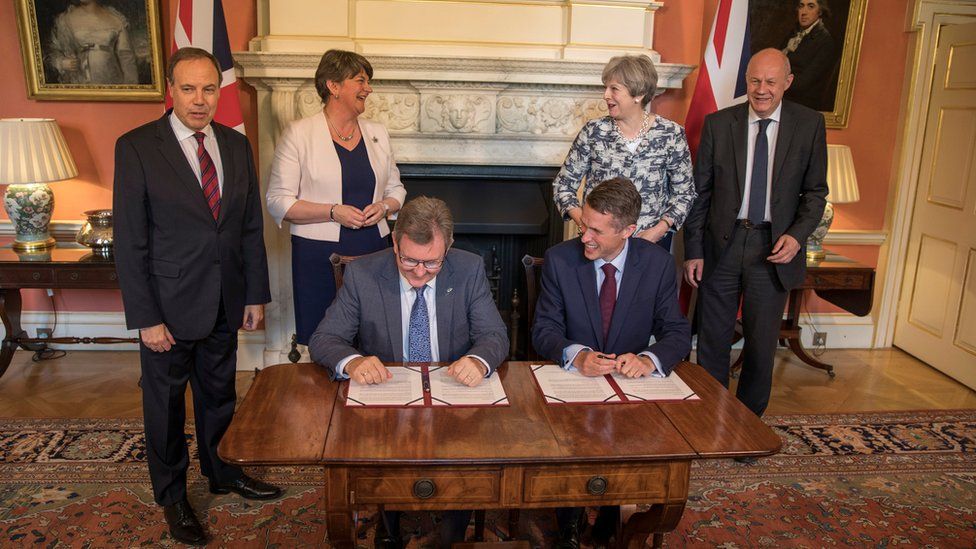 A Conservative MP on the Northern Ireland Affairs Committee has said the government must deliver on its promise to pay out £1bn after its deal with the Democratic Unionist Party (DUP).
The DUP MP Sammy Wilson warned this week that his party may pull out of the deal if the money is not released.
That came amid claims the Treasury was insisting it could only be spent by a functioning Northern Ireland Executive.
But Maria Caulfield has said she thinks Mr Wilson's demand is "reasonable".
The £1bn was negotiated by the DUP in June in return for its support for Prime Minister Theresa May's minority government in crucial votes in the House of Commons.
But no timescale was set for the deliver of the cash.
Ms Caulfield, the Tory MP for Lewes, told the BBC's The View programme that she wants to see the money paid "sooner rather than later".
"We've promised it - Northern Ireland and the assembly need that money in order to make long-term plans.
"Even if they got the money tomorrow that's going to take a while to filter through to the communities and projects and to the public sector, however they chose to spend it.
"So they do need that money - we've promised it and its needs to be delivered."
The Labour Party's Owen Smith, the shadow Northern Ireland secretary, takes a different view, saying it is "very hard" to see how it can be spent before power-sharing is restored at Stormont.
"It is the executive and the politicians on the ground in Northern Ireland who are best placed to determine where and how the money should be spent," he said.
"That's why we should wait ideally until you get the executive back before spending it."
He added that there is a "legitimacy" in withholding that money "in order to put some pressure on the parties".
"They should all want to do the deal so they can spend that extra money on health and education and roads and infrastructure in Northern Ireland."
But Alan Birmingham, an expert in public finance at the Chartered Institute of Public Finance and Accountancy, said he believes it is already too late to spend any of the money in this financial year.
"If you take, say, the support for broadband infrastructure or even the York Street interchange, while there may have been some work already done initially on those projects, there still needs to be a fair amount of work to do to actually bring it to the point where there are tenders and a procurement process.
"So the likelihood of that happening between now and the end of March 2018 would be very slim, to be honest."