Calls to cut MLA pay cannot be used as stick, says Foster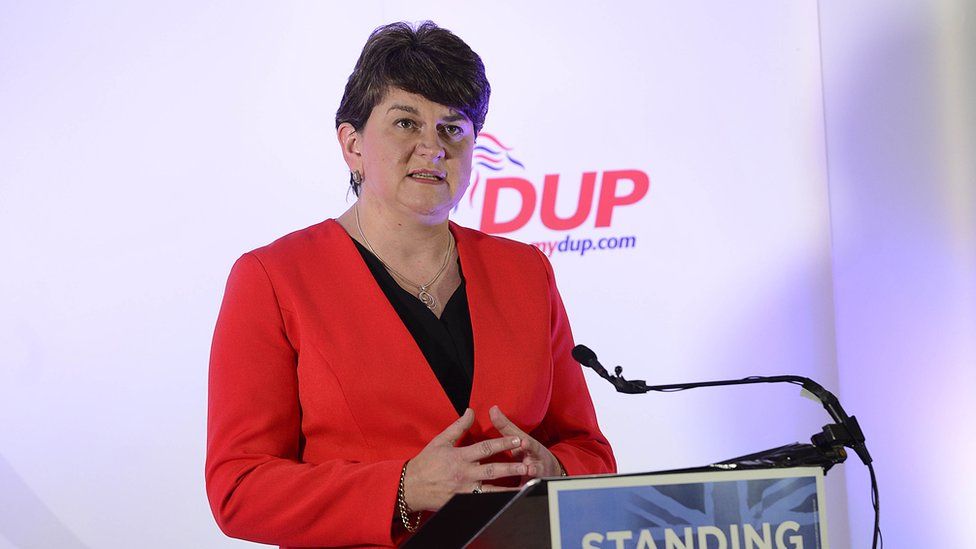 Democratic Unionist Party (DUP) leader Arlene Foster has said cutting MLA salaries cannot be used "as a stick" to encourage progress at Stormont.
Mrs Foster said pay could not be used as an incentive.
Anyone who thought that threatening a pay reduction would make a deal more likely did not understand the political process, she added.
In a wide-ranging interview with BBC Radio Ulster's Sunday News programme, Mrs Foster acknowledged the issue would have to be re-assessed if an agreement could not be reached.
"Pay will not determine the outcome of a political process," she said.
"It is quite offensive, I have to say, to those of us who have stood for election, who want to get on with the job of government, that people think if they make a threat of pay reduction that it will act as some sort of incentive.
"I think people out there, whether it's the BBC or anyone else, that think the threat of reducing my pay is in some way going to make an agreement more possible - they don't really understand me and they don't really understand the people that stand for election."
In response, Mrs Foster said the DUP did not want to be heading towards direct rule, but warned that "there needs to be an end point" to the talks process.
She said there had been a useful, intensive stage of talks since the end of August, but that there are still "significant issues" between the DUP and Sinn Féin.
"It is about trying to keep the focus - people elected us to do a job, they want to see us in government and that's certainly where my focus is."
Sinn Féin MLA John O'Dowd said that the executive can only be restored on a sustainable basis if there is the "implementation of commitments in the Good Friday and other agreements".
"Arlene Foster also needs to make her mind up on the Irish language," he said.
You can listen back to the full interview with Arlene Foster on The Sunday News programme on BBC iPlayer here.