NI unemployment rate falls to 10-year low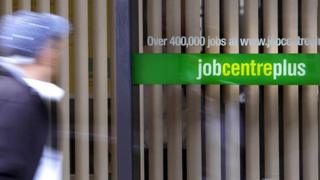 Northern Ireland's unemployment rate has fallen to its lowest level in almost 10 years.
The rate for the period June - August 2017 was 4.7%. That was down 0.8 percentage points over the year and the lowest since September - November 2008.
However, the employment rate also fell and the economic inactivity rate rose.
Those figures suggest some people moved off unemployment benefits onto other benefits.
UK unemployment fell by 52,000 in the three months to August to 1.4 million, leaving the jobless rate unchanged at 4.3% from the previous quarter.
However, pay still failed to keep pace with inflation, with the real value of earnings down 0.3% over the past year.
Total earnings, excluding bonuses, rose by 2.1% from June to August, said the Office for National Statistics.
The news will increase expectations that the Bank of England will raise interest rates on 2 November.
'Real change'
The economic inactivity rate measures the number of working age people who are not in work and not looking for work.
It stands at 28.1% in Northern Ireland.
It increased over the quarter by 0.7 percentage points and rose by 2.3 percentage points over the year.
The Northern Ireland Statistics and Research Agency (Nisra) said the increase over the year was statistically significant.
It added the economic inactivity rate was "likely to reflect a real change, albeit from a record low".
'Economic weaknesses'
The number of people in Northern Ireland claiming unemployment-related benefits now stands at a total of 29,200.
The latest official figures show that there were 500 fewer claimants during the month of September.
The long-term unemployment rate - those who have been unemployed for more than one year - was 55.6%.
That is up 9.6% over the year and much higher than UK average of 25.3%
There is a variation in unemployment levels across Northern Ireland, with the highest claimant count rates in Derry City and Strabane council area (4.9%) and Belfast (3.3%).
While Northern Ireland employment rate is rising, at 68%, it is still below UK average of 75% and it is the lowest of 12 UK regions.
Ulster University economist Esmond Birnie said the continued fall in unemployment was welcome but disguised deep and long-term economic weaknesses.
"Our economic inactivity rate is seven percentage points above the UK one - this points to the urgency of having a joined up policy response, i.e. budget; industrial strategy; Programme for Government; all in place.
"But this is what we cannot do in the absence of a working regional government."
Find out if your wages are keeping up with inflation
Enter your details below. Source: Office for National Statistics.