Peadar Heffron's anger with former GAA club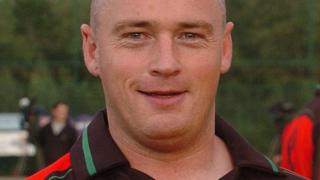 A former PSNI officer who was seriously injured by a dissident republican bomb has spoken of the hurt he feels towards his former Gaelic Athletic Association (GAA) club.
Peadar Heffron made the comments in an interview with GAA pundit Joe Brolly, published in the Sunday Independent.
In a statement, the Ulster GAA said it continued to work closely with the PSNI "for the benefit of the community".
Mr Heffron's leg was amputated and he suffered other serious injuries after a bomb exploded under his car in Randalstown, County Antrim, in 2010.
He now uses a wheelchair.
Members of the security forces were barred from playing Gaelic games by the GAA until the association scrapped its controversial Rule 21 in 2001.
Despite that, Mr Heffron has described the stunned silence from his team-mates from Creggan Kickhams GAA near Randalstown when he told them he intended to join the PSNI.
"I joined the PSNI as soon as it was formed because deep down, naively, I thought this was the little bit I could do... to help this island become one again," he said.
"I thought if policing here was normalised, we could in due course join with the Gardaí (Irish police) and then further down the line, who knows," he told Mr Brolly, who is himself a former GAA All-Ireland winner.
Warning
Despite how the news was taken by his team-mates, Peadar Heffron tried to continue playing with the club until he was given a leaflet warning against joining the police by republican activists at a training session. He never returned.
A month later, he joined the PSNI and found that none of the other recruits shared his GAA background.
However, he later helped form a PSNI Gaelic football team and became its captain.
That, and the fact that he can speak the Irish language, was considered to have made him a prime target for dissident republicans.
Ten years into his policing career he was on his way to work at Grosvenor Road Station in west Belfast and had driven about a mile from his home when a bomb exploded under his car.
The attack and its aftermath is described in graphic detail in the interview.
Mr Heffron spent the next 10 months in hospital and was left with horrific injuries.
'Bitter man'
He told Mr Brolly that he is very angry at how he has been treated by his former club.
"I am a very bitter man," he said. "After the bomb, not even a letter from the club. Two of the committee visited my parents' house when I was in a coma.
"My father Frank played for Creggan, was the club referee and the treasurer. They said to him when they arrived, 'We are not here on behalf of the club, only in a personal capacity'.
"I'd be fairly certain guys I played with passed on my details to others.
"People I knew well were arrested and questioned about the bomb but there were no prosecutions," he added.
'Not my life'
Mr Heffron said that he had always assumed his life would be spent in Randalstown and that he would always play for his home club.
"When I joined [the PSNI] we were promised peace. A new beginning. I thought I'd remain part of my community, a community I loved.
"I thought I'd play football for Creggan and drink pints in O'Boyle's. That we'd have children and I'd take the underage teams.
"Now I'm in a wheelchair. I live in North Down. It wasn't supposed to happen. It wasn't supposed to happen."
"It's a life. But it's not my life."
Creggan Kickhams GAA club declined to comment on any aspect of this story when contacted by BBC News NI.
However, Ulster GAA said: "The GAA has a long standing and publicly stated policy of opposition to violence.
"Through it's community engagement and outreach programmes, the GAA has also worked with Peadar and other members of the PSNI in developing better relationships for all in our society.
"In recent weeks, an International Police Gaelic Football Tournament involving four police teams namely An Garda Síochána, London Metropolitan Police, New York Police Department, and the Police Service of Northern Ireland was held in Belfast.
"This would not have been possible some years ago, which reflects the positive ongoing efforts of the GAA and PSNI."