Stormont 'soap opera' cannot continue, says Peter Hain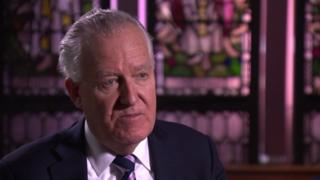 Stormont's "soap opera" should not be allowed to continue without financial "consequences" for politicians, a former secretary of state has said.
Peter Hain said he wanted devolution restored but added the recent series of missed deadlines was undermining public confidence in the political process.
He said MLAs should lose their expenses and salaries paid to their staff should be withdrawn if the stalemate drags on.
Lord Hain said he used a similar tactic to break a previous deadlock in 2006.
Northern Ireland has been without a devolved government since January, when a coalition led by the Democratic Unionist Party and Sinn Féin collapsed.
'In a mess'
On Monday night, the current Secretary of State James Brokenshire again extended the deadline for the two parties to reach a deal to return to government.
"Time has to be called on this whole soap opera at some point," Lord Hain told the BBC's Good Morning Ulster programme.
"There has to be consequences - not just for people in hospitals, which are in a mess in Northern Ireland as a result of dysfunctional government and a failure to take decisions."
The Labour peer added: "I think there should be consequences for the political class, if they continue not to do their jobs."
The former minister served as Tony Blair's Northern Ireland secretary from 2005 until 2007.
His tenure involved protracted all-party negotiations which resulted in the restoration of devolution in May 2007, after almost five years of suspension.
That deal also saw the DUP and Sinn Féin agree to share power for the first time.
Lord Hain said the current deadlock was seriously undermining public confidence in the political classes.
He said he was not in favour of withdrawing MLAs' salaries completely at this stage, but said their income could be reduced as they were not carrying out their full duties.
'Deep disenchantment'
"At a minimum, I think the expenses and the salaries of their staff should be withdrawn.
"They should be given notice under proper employment law procedures - something that I did in 2006 to bring matters to a head, and I know for a fact that had a big impact."
He added: "They are the only group of workers in Northern Ireland who don't have to go to work to draw their salaries, and the same goes for their staff."
"This cannot go on, because what you risk is not just destroying or undermining severely the Good Friday Agreement process which produced the settlement of 2007.
"Not only that, but you would get such an alienation of the people from the political class, that actually, if they ever did decide that they should start doing their jobs properly and govern together, there would be deep, deep disenchantment.
"Turnout at elections would fall and you would get into a populist disillusionment with the whole lot of them."
Lord Hain said he wished Mr Brokenshire well in his efforts but added he was "whistling optimism" after nearly a year of missed deadlines.
As he extended his latest deadline on Monday night, Mr Brokenshire said the DUP and Sinn had made "further progress" in the negotiations.
It is believed that the parties have asked for additional funding from Westminster.