Officials look at holding devolution talks away from Stormont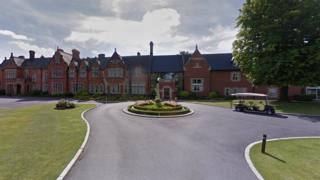 Officials are exploring the possibility of taking vital talks aimed at restoring devolution away from Stormont, the BBC has learned.
It is understood at that least two venues have been sounded out, one in Northern Ireland the other in the North East of England.
One is the four star Slieve Donard hotel in Newcastle County Down.
The other is Rockliffe Hall a five star luxury golf and spa resort near Darlington.
It is owned by Middlesbrough Football Club which has its training facilities there.
Northern Ireland has been without a functioning devolved government since January.
However, it is not clear if the plan to move talks away from Stormont Castle in early January will happen.
But it is one of a range of options being considered.
Stormont Castle was the location for four protracted rounds of negotiations between the DUP and Sinn Fein this year.
All ended in failure.
Recently Sinn Féin said they were not prepared to return to the talks table under the same format.
However the DUP say they are prepared to go into a restored Executive immediately and resolve remaining issues then.
In the past negotiations involving the parties have been taken outside Northern Ireland to venues including St Andrews in Scotland and Leeds Castle in Kent.
A spokesman for the Northern Ireland Office told the BBC "The Secretary of State is committed to restoring the devolved institutions."