Londonderry residents 'plagued' by rat infestation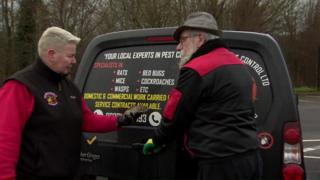 Residents in parts of Londonderry have said their lives have been "turned upside down" due to a growing problem with rats running through their homes.
Sinn Féin described it as an infestation which will only be tackled by a multi-agency approach.
Members of various organisations met on Wednesday to discuss the issue.
One of them, who spoke to BBC News NI, said it has been a frightening ordeal for her young family.
The woman, who did not want to be identified, said she has been forced to leave her home in the Bogside area for the sake of her terrified children.
"It's awful. As a family, we've had 10 carcases of rats taken out of the house," she said.
"The smell throughout the house and the noise of the rats running through the house at night is unbelievable.
"I've two children terrified to sit in their beds at night."
The woman, who has recently returned to her home after moving out because of the rat problem, said it still remains.
"It's just not on, we just can't sleep," she said.
It is understood a number of other families in the area have also left their homes because of issues with rats.
At the multi-agency meeting on Wednesday morning, the Housing Executive, NI Water, several housing associations and local elected representatives discussed the extent of the problem.
Charlie Page, who has almost 50 years of experience in dealing with pest control, said a comprehensive programme in the sewerage system must be undertaken.
"The source of the problem is the manholes and then all the slips are going to every house in the Bogside.
"They (the rats) can get out anywhere because there are a lot of earthenware pipes down there. Over time, they've fractured and the rats get through.
"You must get the main source to prevent them going to houses. If you do that, the problem will phase out in a month or so."
All of the agencies involved have acknowledged the seriousness of the situation and have pledged to work together to find a solution as soon as possible.
A spokesperson for Derry City and Strabane District Council confirmed that while it does not provide a pest control service, its Environmental Health team will investigate where public health is at risk.
"Officers have been liaising with the Housing Executive and other local agencies on this issue with a view to finding an effective and lasting solution to the problem," said the spokesperson.
"We would encourage residents to continue to report any incidents and reassure them that we are working to address the issue as a matter of urgency."