Why did PMs May and Varadkar go to Stormont talks?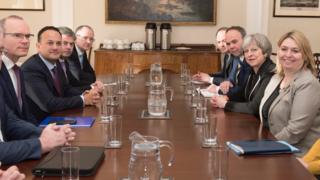 Standing in the freezing cold on the Stormont estate, reporters and photographers from Belfast, Dublin and London all appeared to have the same question.
"Why are we here?"
The massed ranks of newspaper and broadcast journalists had come to record the visits of UK and Irish prime ministers on Monday.
It came as expectations were raised that a deal to restore devolution in Northern Ireland was about to be done.
The premiers - Theresa May and Leo Varadkar - held discussions with each other, meeting twice during the day to talk about Brexit and the Stormont talks process.
There were also meetings with the parties but as darkness fell outside Stormont House they left Belfast and returned home without any sign of agreement.
Their visit to Belfast left observers and commentators wondering why the trip had taken place as it was clear there was little prospect of a deal being agreed.
Early in the day, a Democratic Unionist Party (DUP) source told BBC News NI's political editor Mark Devenport that a deal would not be agreed on Monday.
So was Mrs May's visit a help or a hindrance?
One Stormont insider interpreted the prime minister's visit as an attempt to "bounce the DUP" and said Downing Street should have been fully aware that a deal was never going to be struck on Monday.
The source suggested that the visit "was not helpful".
'Coincidental timing'
Why then did Mrs May come to Belfast if she knew that a deal was not going to be signed off?
One source told the BBC that Monday's trip had been in the diary for about two weeks and said it was planned for a number of reasons.
Those included visiting the Bombardier site in Belfast to meet workers and management, and also as an opportunity to talk to the political parties at Stormont.
Last week, BBC News NI broke the story that the prime minister was planning a Belfast trip.
On Tuesday, a source claimed that the timing was coincidental and was not specifically linked to growing speculation that a devolution deal was imminent.
It has been made clear that diary commitments meant that Monday was the only opportunity for the Mrs May to travel to Belfast this week.
But the trip has left some to wonder if it really helped the sensitive negotiations between the DUP and Sinn Féin.
One talks insider said the visit was a "distraction" from the real negotiations and it "got in the way".
A Sinn Féin source said the intervention from Mrs May and Mr Varadkar was not the important issue, adding that the real issue is whether "the DUP are up for a deal".
It is not the first time a prime minister has visited Northern Ireland during intensive talks, raised expectations of a deal and then had to return to London empty-handed.
Back in 2014, David Cameron came to Belfast in an attempt to secure a deal between the same parties on welfare reform.
In spite of meeting them amid suggestions that an deal was possible he had to return to London without agreement, which did later happen.
'Spooked the DUP'
Monday's discussions involved Mr Varadkar and his deputy Simon Coveney.
The BBC understands that the Irish government was officially told on Sunday about Mrs May's Monday visit to Belfast.
One Stormont source felt that the presence of Mr Varadkar in Belfast also "spooked the DUP" as sensitive talks about legislation for the Irish language are continuing.
Arlene Foster's party did not meet Sinn Féin on Monday.
The DUP did not hold talks with members of the Irish government, saying that the discussions in Belfast were about Northern Ireland matters.
Questioned by reporters about the fact the DUP and the Irish government did not meet, Mr Coveney played the issue down.
He told journalists not to read too much into the lack of a meeting.