Issues in almost a third of school bus checks in 2017/2018
By Colm Kelpie
BBC News NI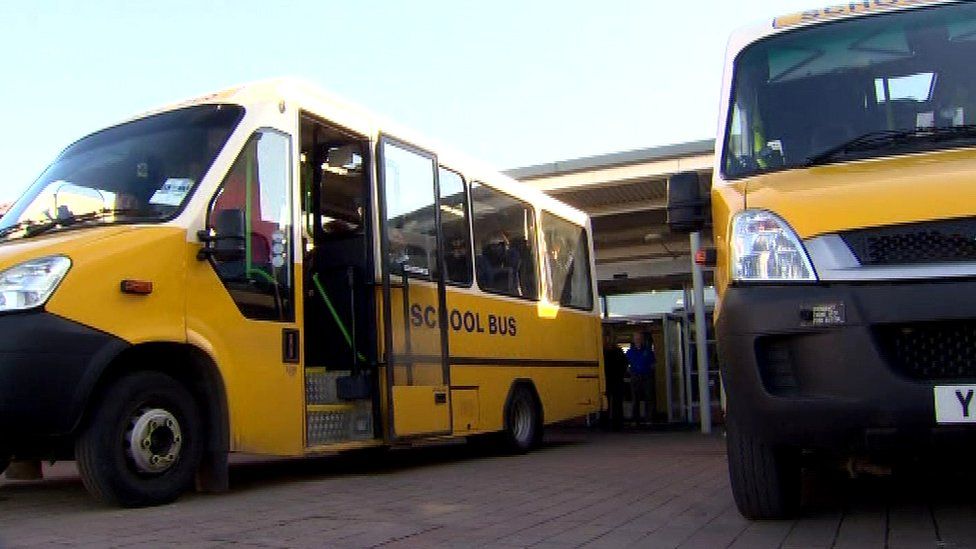 Roadside spot checks on school buses in Northern Ireland have found problems in more than a fifth of cases since 2013.
A "wide-range" of issues were identified, including brakes, bodywork, tyres, tachographs and emergency exit defects.
In 2017/2018, 90 random spot checks were carried out on buses, with problems recorded in almost a third of cases.
The Education Authority (EA) said any defects are rectified immediately.
The spot checks were carried out by staff from the enforcement section of the Driver and Vehicle Agency (DVA).
Koulla Yiasouma, Northern Ireland's children's commissioner, said the figures were "quite concerning".
Since 2013, 599 buses have been inspected, with 279 issues/offences identified in 134 cases.
In 2017/2018, of the 90 checks carried out, there were problems with 28 vehicles that identified 52 issues/offences.
The western region fared worst, with 11 problem vehicles and 21 issues found.
The DVA told the BBC that, since 2013, there have been "a wide range of issues identified with vehicles including lighting/signage, brakes, bodywork, tyres, tachographs, oil/fuel leaks and emergency exit defects".
Ms Yiasouma, Northern Ireland's commissioner for children, said: "On the face of it these latest figures are quite concerning, with almost a third of those school buses inspected [in 2017/2018] having issues, and with the picture in the west being particularly stark.
"My office is in regular contact with the Education Authority and I will be seeking further information and assurances around the continuing safety of our children and young people, as they travel to and from school."
An Education Authority (EA) spokesman said it provides transport assistance for 85,000 pupils on a yearly basis, either by buses operated by itself or other operators.
"EA works closely with DVA to ensure school transport services are fully compliant with all aspects of operator, driver and roadworthiness responsibilities. Any defects identified by DVA or internal EA checks are rectified immediately," he said.
"In relation to contracted services, while the primary responsibility for dealing with non-compliance lies with DVA, this process is supported by EA through its own contractual management arrangements with operators which can include sanctions up to and including termination of contract."
Since 2013, enforcement officers have issued 75 VT5 defect notices in relation to 167 offences/issues following school bus spot checks.
VT5 is a legal notice that lists the defects found on the vehicle, with the requirement to have the problems fixed and presented for inspection at a DVA testing centre within 14 days.
A vehicle examiner can also issue an immediate prohibition notice, known as a form V1/V2, when the "severity of one or more defects on a vehicle is considered to be a significant road safety concern", according to the DVA.
Since 2013, 52 V1/V2 forms have been issued relating to 97 offences/issues, with 20 V27 vehicle licence suspension notices linked to 58 offences/issues.
In 2017/2018, 14 defect notices were issued related to 31 offences/issues, as well as 13 prohibition notices linked to 18 offences/issues. Four vehicle licence suspension notices were issued, related to seven offences/issues.