Castlerock Golf Club fire will cost 'thousands' in repairs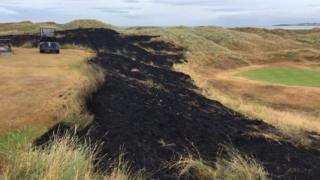 A fire at Castlerock Golf Club's course in County Londonderry is being treated as deliberate, according to the PSNI.
The fire broke out in the early hours of Sunday and it is understood repair work will cost thousands of pounds.
A hut on the course was also damaged with parts of the roof, windows and doors broken.
Police in Limavady have confirmed they are investigating the incident and have appealed for anyone with information to come forward.
Bert Mackay, general manager at Castlerock Golf Club, described it as "a mindless act".
"We have had some minor vandalism to the course in recent weeks with flags being stolen, tee markers removed and clocks on the course broken, but nothing like this," said Mr Mackay.
"We're still trying to piece together exactly what happened. There was some damage done on the windows, doors and roof of the half-way hut and on the main course, a grass bank on the ninth green was set alight.
"But because it's not on the plain surfaces, we're open with business as normal."
A PSNI spokesperson said: "A deliberate fire was started on the long grass of the course and we believe smoke and flames would have been visible from Circular Road and further afar."